Cough & Cold Natural Remedies
Let's face it: whether you're in the throes of winter cold season, or you've come down with a stubborn cough or cold in the middle of summer, the waiting game is tough. Waiting for nasal congestion or sore throat and coughing to subside so you can get back to your daily rhythm, can leave you feeling restless and helpless.
Try these easy natural home remedies to help make you more comfortable the next time you're feeling under the weather:
1.    Throat and Chest Massage
Directly massaging the throat and chest with essential oils is an enjoyable home remedy that can deliver positive results (and feel oh so good)! Cedarwood and Frankincense are often used in combination as a remedy for coughs because they help to loosen mucous and clear the lungs. Cypress, Peppermint and Helichrysum further assist with opening the airways.
Natural cough remedy:
Try massaging a diluted combination of Cedarwood, Peppermint, Frankincense, Cypress and Helichrysum directly onto the chest area.
Sore throat remedy:
Rub a diluted mixture of Lemon, Peppermint and Tea Tree (Melaleuca) essential oil directly on the throat. Start at the base of the ears and continue with downward strokes along the sides of the neck. Rub from the underside of the chin down both sides of the trachea. Repeat up to three times daily.
2.    Sinus Massage
Sinus congestion or "stuffiness" can be one of the most unpleasant symptoms of the common cold, and it can lead to sinus headaches. Try these tips and get ready to breathe the free air again, friends!
If nasal congestion has got the best of you, gently massage near the nostrils with a local application of diluted Cedarwood or Tea Tree essential oil. Make sure you avoid contact with the eyes and mucous membranes.
Got a bad case of sniffles and runny nose? Combine a few drops of Lavender oil or Peppermint essential oil with a carrier oil and rub the mixture onto the nose, massaging near the nostrils. Both of these oils can help with runny nose symptoms (and they also smell delightful).
Before bed, use Lavender and Peppermint oils to massage the sinuses. This may help to clear the sinuses so you can breathe better as you drift off to sleep. As with all essential oils, be careful to keep these oils away from the eyes, mouth and the inside of the nose.
3.    Steam Inhalation
Deep breaths in… deep breaths out! Have you ever noticed that your sinuses seem to clear up when you take a hot shower? The steam helps moisturize and soothe your nasal passages, and when combined with specific essential oils (you guessed it), steam inhalation can help to loosen mucous and bring relief to the sinuses. 
Unfortunately staying in the shower forever isn't an option (our lives are too busy, plus think about the water conservation!), but not to worry! We suggest these easy steam bowl alternatives: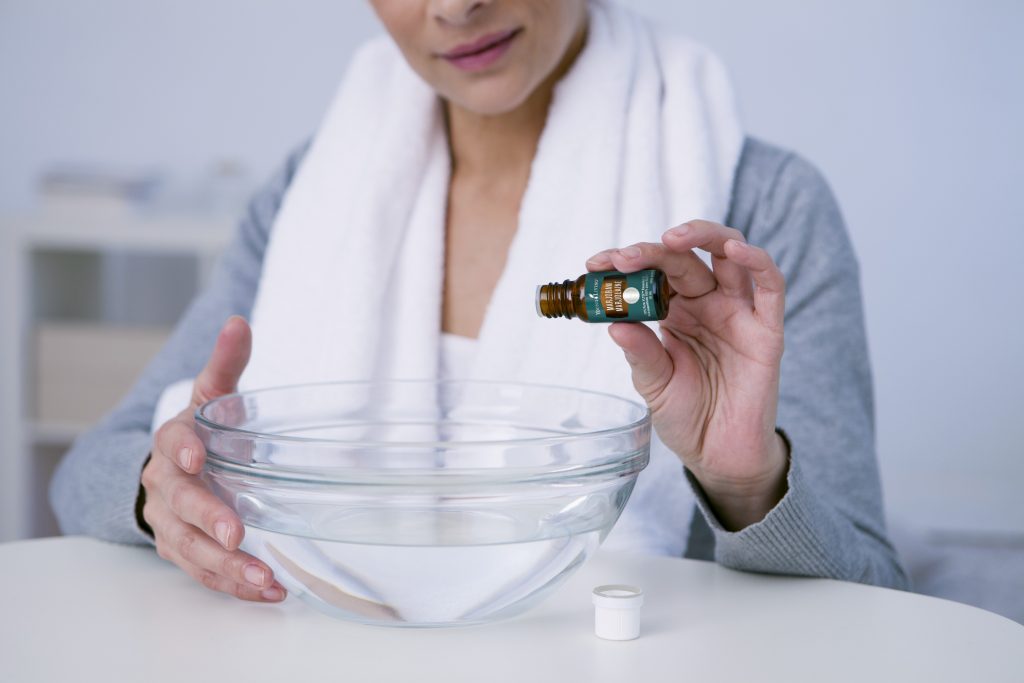 For congestion, sore throat and sinus headaches:
Combine 3 – 12 drops of Lemon, Lavender, Marjoram and Lime oil in a bowl or pot of steaming water. Deeply inhale the steam.
Lemon and Lime assist with congestion by helping to break down mucous, while Marjoram and Lavender help to relieve headaches due to sinus congestion.
Remedy for cough and postnasal drip:
Place 3 – 12 drops of Marjoram, Lavender, Cedarwood and Peppermint oils in a bowl of steaming water. Position your face directly above the bowl and slowly breathe in the steam for approximately 5 – 10 minutes. This practice can be completed up to three times each day.
4.    Direct Essential Oil Inhalation
If steaming water is not readily available to you, we've got an even easier method to try.  Apply 1 – 6 drops of Lime, Lemon or Peppermint essential oil to a tissue or handkerchief and inhale occasionally up to three times daily.
Lime and Lemon help to loosen mucous, while Peppermint can help to reduce upper respiratory tract symptoms from colds including sore throat and cough. All three have the added benefit of a refreshing, pleasant aroma.
5.    Calming Bath 
There's no doubt about it: anything that comforts and soothes while you're sick is an absolute blessing. A warm essential oil bath can be just the thing your body needs and can feel utterly blissful. Adding the following essential oils to the bathwater can help ease your symptoms of stuffiness and sore throat and enhance your relaxation. 
Combine 2 – 8 drops total of any of the following essential oils with an equal amount of liquid soap or shampoo:
Add the mixture to a warm bath and gently blend it into the water with your hands. Soak in the bath for 10 minutes and enjoy!
6.    Warm Compresses
Compresses can be just what the doctor ordered. Infuse your compress with essential oils that are approved to help alleviate symptoms of colds and coughs.
Add 2 drops of any of the following essential oils to a bottle filled with 500 ml of warm water:
– Cedarwood                                – Lime
– Marjoram                                   – Helichrysum
– Clove                                          – Cypress
– Frankincense                            – Thyme
– Tea Tree                                    – Geranium
– Peppermint                               – Jade Lemon
– Lemon                                       – Lavender
Shake the bottle thoroughly, then soak your compress (a clean, absorbent washcloth is recommended). Gently squeeze the compress to remove excess moisture. Apply the compress directly on the forehead, across the nose and cheeks, on the throat or on the chest. It can also be placed over the ears as a remedy for earaches stemming from head cold congestion. Cover the compress with a t-shirt or towel and leave in place for 2 to 4 hours. You can apply your compress up to three times each day.
7.    Warm Liquids
Take advantage of the natural soothing effects of heat while you're sick with a cold! First, rub a local application of diluted Frankincense, Thyme, Lavender, Tea Tree or Peppermint essential oils onto your throat, chest or forehead. Then, while you're relaxing and breathing in the aroma of the oils, drink a soothing mixture of apple cider vinegar with honey. Warm liquids can feel good on a sore throat and can become a relaxing part of your bedtime routine.
In addition to utilizing these home remedies to treat colds, don't forget that getting adequate rest, eating healthy foods and taking care of your body are essential to recovery.